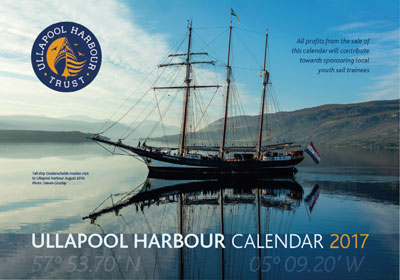 14 arrivals for the period
Whitefish totalled 1500 boxes from two Anglo Spanish and one Scottish landing. The Anglo- Spanish fleet are slowly returning to the northwest after a period of fishing further south. The Scottish trawler Adventurer continues to take advantage of the settled weather fishing 200 miles west of the Hebrides at Rockall for haddocks and monkfish.  It won't be long before the weather shuts down this fishery for all but the biggest vessels.
Shellfish was also pretty quiet; there were only three prawn landings combined with the weekly offshore crabbers. The Orkney-registered crab creeler Heather K has identified a market for female crabs in China. The crabs are carefully selected, boxed up and air- freighted via Heathrow to Shanghai arriving alive and kicking some forty eight hours later – amazing.
Non-fishing turned out to be the busiest sector with a mixed bag of arrivals.  The Irish pelagic pair trawlers Carmarose and Westward Isle called in for fuel on their way North to hunt for mackerel. The fishfarm support vessels Tie Venture and Gerda Saele called in for layovers and the Northern Lighthouse ship Pharos anchored in the bay over the weekend. NLV PHAROS is a multi-function ship which came into service in 2007 to support the maintenance of lighthouses and other aids on which to navigate.  Equipped with Dynamic Positioning, the ship is able to accurately maintain position whilst repairing navigation buoys in situ. Combine this with a 30 tonne crane, 300m2 of deck space and an onboard helicopter and you have the perfect tool for completing any job.
On 2nd November, author Philip Hoare came to deliver a talk at the Ferry Terminal.    Sponsored by Scottish Wildlife Trust with support from Ullapool Harbour Trust, the evening was hugely enjoyable.  A large crowd listened to Philip describe his passion for sea swimming, whales, Moby Dick, his travels, whales in art and much more.
Online voting is underway for the annual MG Alba Scots Trad Music Awards. Previous local winners include the Ceilidh Place (venue of the year 2014) and the Summer Isles Music Festival (community project of the year). This year three Coigach musicians have been shortlisted, Mairearad Green (Composer of the year), Rachel Newton (Instrumentalist of the year) and Joseph Peach with his band Tannara (Up and Coming Artist of the year).   You can cast your votes here https://projects.handsupfortrad.scot/scotstradmusicawards/
The 2017 Harbour Calendar is in all local shops, here at the harbour office and on our website www.ullapool-harbour.co.uk.   This year's calendar is as good as ever with a range of fantastic photos.  The calendar makes a perfect gift for friends and loved ones, is ideal for posting and also supports our Sail Trainee efforts which are now in their sixth year.  In this time, Ullapool Harbour Trustees have sponsored sail training for over 350 local students.  Some have gone on to carve out maritime careers and many have developed a lifelong passion for sailing.