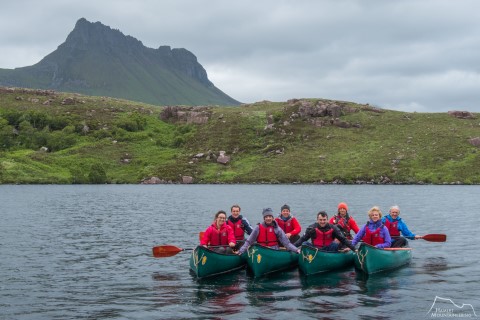 Are you a cruise passenger who is visiting Ullapool? We have some advance advice for you which we hope you find useful.
We're absolutely delighted that you're planning to visit Ullapool by cruise ship and are so excited to offer you a flavour of authentic North West Scottish Highland (Wild) Life!
You're absolutely guaranteed the warmest welcome you can imagine together with a chance to experience some of the most spectacular wild scenery in Europe and a wander around our lovely traditional fishing village. Try and get to visit our museum if you can, or visit one of our two bookshops, several art galleries, craft and gift shops, pottery, or sample some of our delicious local food and drink.

There are a few things that you should bear in mind to ensure you maximise your experience.

We live in a pretty remote area. Ullapool is by far the largest settlement in the North West Scottish Highlands, lying 60 miles north of Inverness. It's therefore the perfect opportunity to just soak up a very relaxed, stress-free experience. If you're not taking a pre-booked shore excursion, our small village offers several book shops, a range of gift shops, art galleries and a fantastic museum. There's an opportunity to sample excellent local cuisine (try out amazing local seafood) and locally produced craft beer. If you're lucky there will be live music in some of the pubs. There are great walking opportunities for people of varying abilities.
However, public transport options are extremely limited and both local taxi and car hire companies are invariably booked out. If you think you'd like to explore a little further, we highly recommend doing a little bit of research in advance.
Car Hire
Local car hire must be pre-booked at Lochbroom Self Drive (www.lochbroom.com)
0044 1854 612 560 / 0044 7831 265066
Nationwide Hire are also worth a call (www.nationwidehireuk.co.uk)
0044 808 1683 999
Taxis
Taxis should always be booked in advance to avoid disappointment on the day. They tend to become booked up very quickly so it's really worthwhile making your plans as soon as possible.
Please see www.ewensofullapool.co.uk to discuss your requirements – they are happy to tailor drives for passengers (they can even take smaller groups) and are familiar with the local cruise industry. Email info@ewensofullapool.co.uk or call 0044 1854 612 966
A little further afield, you can book tours with:
Andrews Private Car Hire is worth contacting. Please call Andrew on 0044 7818 697 609 or email him on andrewsprivatecarhire@gmail.com.
Jim's Taxi Service 0044 7780 920 057
Private Tours
It's definitely worth checking out one of these companies if you fancy a guided tour of the local area, its stunning scenery and a great time with one of these companies. They're all Scottish and are very familiar with the local area.
Avril's Travels: www.avrilstravels.co.uk – Speak with Avril Service on 0044 7751 123 410
Hielan Quine Tours: www.hielanquinetours.co.uk – Speak with Ali via her website
Rustic Tours: www.russtictours.co.uk – Speak with Gail on 0044 7495 678 870
Things To Do If You're Feeling Active
If you've not pre-booked a shore excursion and would like to actively explore our stunning surroundings we highly recommend a trip up Ullapool Hill where you can hike a variety of routes and enjoy outstanding views over the area. There are also a variety of very pretty riverside walks at the village edge and if you're really lucky, you might get to see our new otter family who seem to have taken a fancy to our shores.
If you'd like some expert company, here are some people who'd be happy to help you.
You could try out some canoeing, hill walking, rock-climbing or kayaking – contact Hamlett Mountaineering. They cater for individuals and groups who are interested in adventure experiences in our amazing landscape and have hugely experienced and talented guides for people of all abilities. Their local, specialist knowledge is second to none and will guarantee an unforgettable day in some of the most remote landscape in Western Europe. Visit http://www.hamletmountaineering.com
If you fancy fly fishing in the heart of the Scottish Highlands, James Curley offers boat, rod hire, guiding and tuition for beginners and seasoned enthusiasts. See www.jamescurley.org or email info@jamescurley.org.
Our local golf club is offering the most fantastic time to keen golfers. They'll come and collect you, lend you clubs, invite you to play on their spectacular 9-hole golf course beside with spectacular views to the Summer Isles and beyond and drop you back to your ship – all for £25. Contact them via http://www.ullapoolgolfclub.co.uk/