JANUARY 2014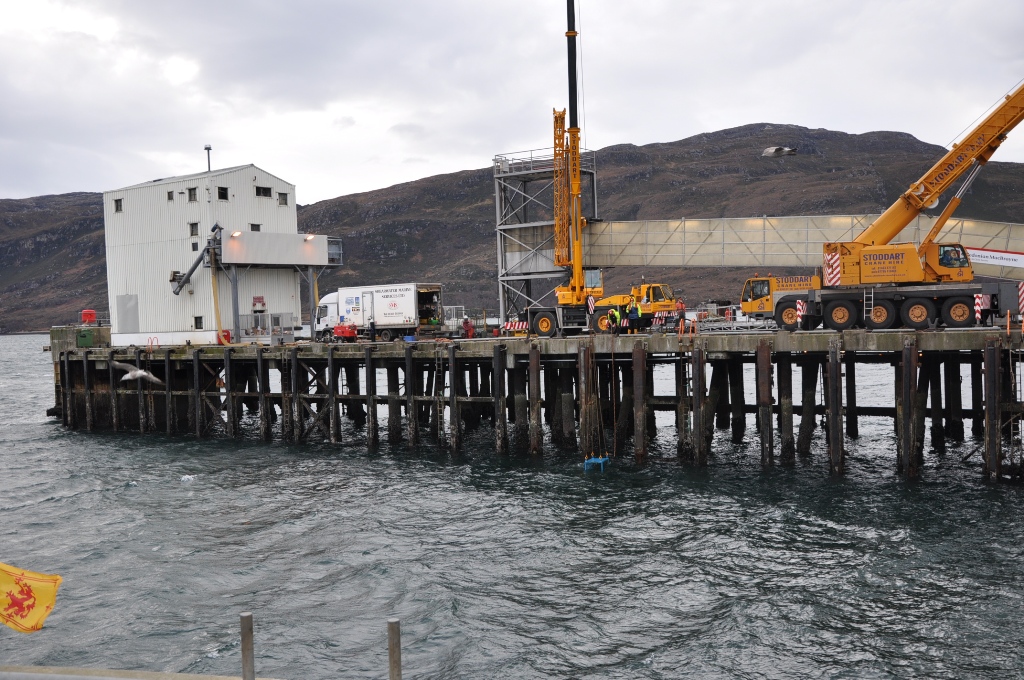 Work has begun in earnest.  The main contractor, R J Mcleod, have set up their portacabins on the pier and from Monday 13th January, machinery of all sorts descended on the pier including a couple of giant cranes.
This week, the main jobs are removal of old fenders which are being gouged out by Loch Shell Engineering with a welding clamp.  So far, 18 have been removed with a further 12 to come out.  A number of these will be re-used as temporary fenders until the new ones have been put in place (we'll talk more about these when this happens).  The fenders weigh 3.7 tonnes and have been in the water for 17 years – the seagulls had a field day cracking shells on the pier (hard hats definitely required for that!).
Simultaneously Shearwater Marine Services Ltd have spent the week carrying out diving surveys and also removing old bridging beams.  The typical depth they're working at is around 9 metres so a single diver can stay underwater for about 3 hours.   The divers wear surface to air helmets fitted with a camera.  This allows full communication with a senior engineer who observes all their activities via monitor.
BACKGROUND
2014 sees the largest construction project in years on Ullapool Harbour.  Preparations are underway to facilitate the arrival of the new Ullapool-Stornoway ferry  the MV Loch Seaforth, which replaces the MV Isle of Lewis.
The new vessel is a 116 metre Roll On Roll Off vehicle passenger ferry, is capable of transporting 700 passengers and 143 cars (or 20 commercial vehicles) and  is due to arrive in Ullapool in August 2014
Infrastructure on the Harbour is being extended and upgraded to accommodate the larger vessel's design and works include a 33 metre extension of the ferry berthing pier and a second storey extension to the Terminal Building to accommodate the brand new Passenger Access System.  The pier extension itself is a caisson design (a watertight retaining structure) which is being constructed in dry dock in Port Glasgow and when complete, will be towed from the Clyde into the Harbour.
In this section, we'll provide regular updates with photos to keep you informed of progress and as many interesting facts as possible.