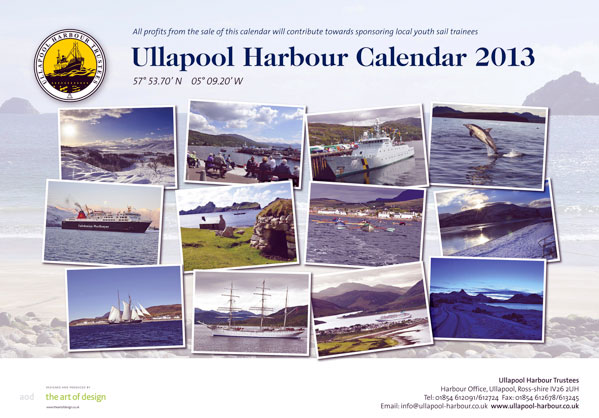 Ullapool Harbour Trust is committed to the development of young local people. For a number of years, the harbour has sponsored a group of local students from the High School to take part in exciting Tall Ships voyages. The close relationship the Harbour has nurtured with the Tall Ships community has ensured that all our trainees have been offered truly exciting and challenging opportunities as they are fully engaged in learning brand new skills, making new friends within a fantastic team environment.
2013 is the best yet. 6 of our local High School students have been sponsored by the Harbour to take part in a leg of this year's Tall Ships Race between Aarhus and Helsinki on board the beautiful schooner Wylde Swan with who the Harbour has a specially close friendship. This is truly a lifetime opportunity and we look forward to sharing tales of our young travellers' adventures later on this summer.
To help raise the funds to support this undertaking, Ullapool Harbour produces its own calendar with spectacular local images featuring our magnificent scenery, wildlife, seascapes and sea life taken by local photographers. All profits from the sales of these calendars goes to the training fund. The calendar also features tide information and highlights local cultural events throughout the year.
Apart from being lovely to look at, it's truly useful and makes a great gift for family and friends who live away from home.
Ullapool Harbour Calendar 2013 on sale now.
You can order calendars by calling in to the harbour office, emailing or phoning.  This unique, high quality calendar with envelope is just £6.50 with all profits donated to sponsoring local youths on Sail Training voyages during the 2013 Tall Ship Races.
Phone 01854 61 2724
E-mail: info@ullapool-harbour.co.uk